Welding Power Supply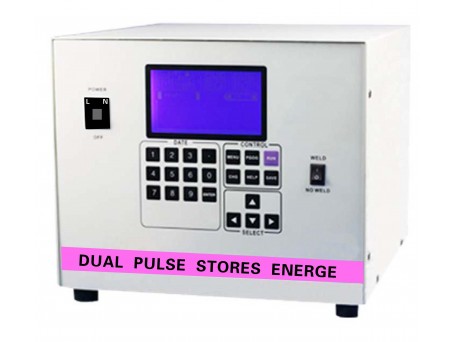 ADP9 Capacitor energy storage precision resistance spot welding machine
ADP9 Information as follows,
Power source size
290×380×424mm
Weld transformer size
190×254.5×309.5mm
LCD dispaly
dual pluse welding power supply
900 joules
208VAC-230VAC,50/60Hz
Can using air driving or foot driving welding head

Product Details
ADP9 is a 900 Joule capacitive energy storage welding power supply.
Its unique double pulse welding method can effectively solve the resistance welding problem of most precision hardware workpieces,set and record 10 groups of welding procedures,and has a special energy locking function to ensure that the welding quality will not decline due to the fluctuation of the power supply.
High speed and high precision microprocessor provides highly stable repeated welding.
Compatible with mechanical and pneumatic welding heads.

Double pulse reduces welding spatter and effectively improves welding quality.

Three different welding methods
(1) ordinary spot welding;
(2) Roll welding (seam welding);
(3) Continuous welding.

Friendly working interface and welding pulse graphic display function improve the convenience of debugging and observation.

Two way synchronous relay provides welding state synchronous signal,which is convenient for automation application.

The remote welding specification switching function facilitates the application of automation.

It has the switching function of welding polarity.

The built-in welding current,voltage and power monitoring function reports the welding quality of each welding spot.

The built-in welding counter can calculate all welding spots or qualified welding spots.

The function of variable welding procedure can not only compensate the wear of welding needles,but also apply to the welding of welding joints under different conditions.

Finally, use the memory function of the program,and return to the last welding program every time you start the machine.

Compatible with primary or secondary foot switches.

Compatible with welding head with welding pressure switch and welding head without welding pressure switch.

The preloading time and holding time are continuously adjustable from 0 to 9.9 seconds.

The discharge switch can be mechanical or photoelectric.

Weak welding prevention function,effectively reducing welding waste.

The foot switch terminates the welding function and improves the reliability of welding.
MAIN MENU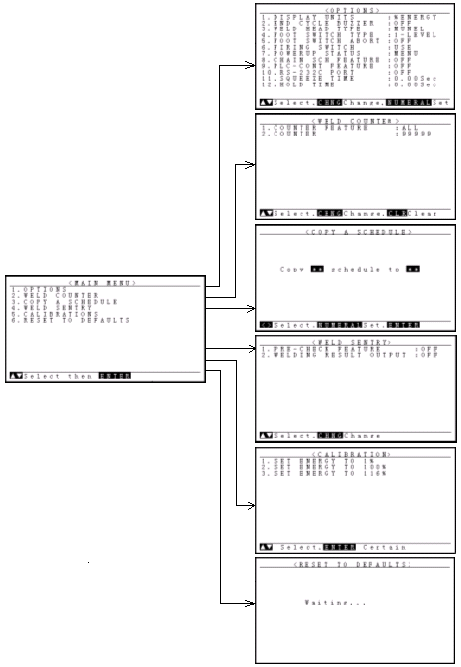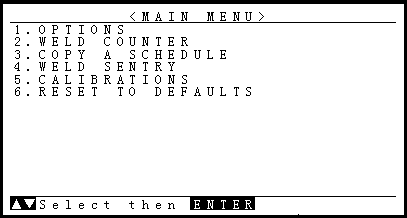 OPTIONS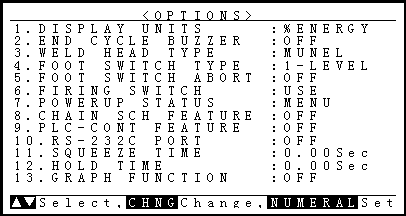 WELD COUNTER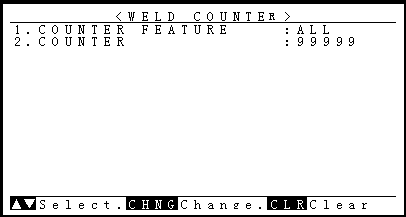 COPY A SCHEDULE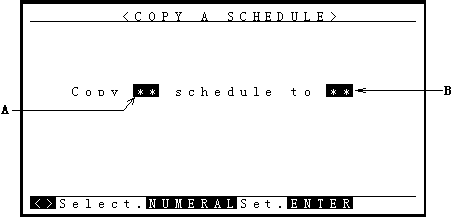 WELD SENTRY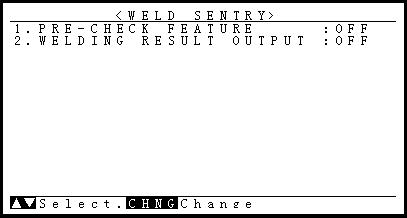 CALIBRATIONS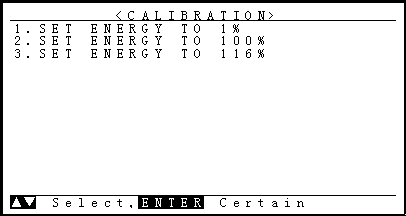 PROGRAM